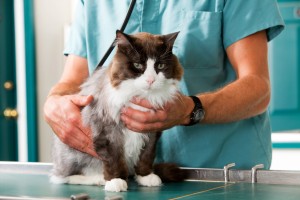 Together, we can help your cat or dog live a long, active and comfortable life. The health of your pet can change almost imperceptibly to us as pets are very good at hiding their illnesses. Early diagnosis and intervention often minimizes suffering and enhances the quality of life for our furry companions.
When your pet enters the "senior years" of life, the aches and pains and illnesses may begin to develop. Commonly dental disease, kidney impairment, arthritis, digestive problems and weight management issues affect the comfort and longevity of our pets. Pets may also develop diabetes, heart or liver dysfunction, thyroid problems and even cancer, just like us.
Because of the special needs of senior pets and how quickly they age, it is important that these special family members receive complete physical examinations at least twice a year. Appropriate wellness diagnostics extend the Doctors' ability to fully evaluate each patient and formulate an individualized program to maximize your cat's comfort and enjoyment of life.
We offer senior wellness packages designed specifically so that that we have the medical information necessary to guide you on the most appropriate nutrition, care and actions to take the best care of your pet and ensure they live happy, healthy lives.
First: How Old is Your Pet in "Cat Years" or "Dog Years"? View Our Pet Age Chart Here (PDF)
Feline Wellness Screen Gold Package (1-6 Years) – View PDF
Includes: – Doctor Consultation – Complete Blood Count (CBC) – Chemistry Panel – Complete Urinalysis
Feline Wellness Screen Gold Package (7-13 Years) – View PDF
Includes: – Doctor Consultation – Complete Blood Count (CBC) – Chemistry Panel – Thyroid Feline T4 – Complete Urinalysis – Blood Pressure
Feline Wellness Screen Platinum Package (13+Years) – View PDF
Includes: – Doctor Consultation – Complete Blood Count (CBC) – Chemistry Panel – Thyroid Feline T4 – Complete Urinalysis . – Radiograph: Whole Body Lg Film, 2 views – ECG Geriatric Screen (IDEXX) – Blood Pressure
Canine Wellness Screen Adult Gold Package – View PDF
Includes: – Doctor Consultation – Complete Blood Count (CBC) – Chemistry Panel – 4DX Test: Lyme/Heartworm/Erhlichia/Anaplasma – Complete Urinalysis
Canine Wellness Screen Senior Gold Package – View PDF
Includes: – Doctor Consultation – Complete Blood Count (CBC) – Chemistry Panel – 4DX Test: Lyme/Heartworm/Erhlichia/Anaplasma – Thyroid Canine T4 – Complete Urinalysis
Canine Senior Wellness Screen Platinum Package – View PDF
Includes: – Doctor Consultation – Complete Blood Count (CBC) – Chemistry Panel – 4DX Test: Lyme/Heartworm/Erhlichia/Anaplasma – Thyroid Canine T4 – Urinalysis: Sed/Stix/S.G. – Radiograph: 3 Views Chest – ECG Geriatric Screen (IDEXX) – Blood Pressure
"Our pets should be treated with the same care as aging people. When you age, you require additional care and tests for preventative health. Our animals cannot speak for themselves so we rely on the staff at AAH to tell us what may be wrong…I have been with American Animal Hospital since they opened the doors. Dr. Mahoney is well respected and known in the community and AAH has always proven to be dependable."
–Don H, Neenah