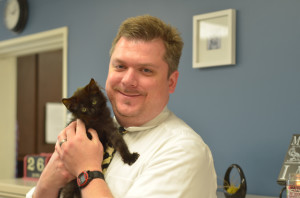 We are excited to announce that we now offer cats-only appointment hours at AAH!
These cat-specific hours will decrease the stress of the vet visit on both you and your cat. This means no dogs allowed during this time!
Having only cats in the clinic during these hours will minimize stress on pet owners and their feline companions. Cats often become distressed when they see or interact with dogs or other species while visiting a veterinary clinic, and many owners are hesitant to bring in their cats due to the stress it causes.
Only allowing cats during these hours at our clinic will allow pet owners who may not bring in their cats for wellness and illness exams due to the stress it causes a better option for veterinary care.
As the need for additional cat-friendly hours arises, American Animal Hospital will offer additional times during which only cats will be seen at the clinic.
Appointments for cats during feline-only hours can be made by calling the clinic at 920-725-8522 or by e-mailing info@aahneenah.com.
Offering cats-only hours locally is another way the caring staff at American Animal Hospital brings service offerings to the Fox Valley community that will help their pets live fuller, happier lives.
"This has been the best vet office I have been to – excellent care. Very kind and friendly people…true dedication and love really showed."
–Diana G, Neenah